Day 5 – walk the path of recovery along Miyagi's coastline.
Leaving the mountains behind, it's time for a dose of vitamin Sea! The Pacific coast awaits in all its beauty, supporting the local lifestyle with its fertile fishing grounds. Jump on a local fishing boat and be taken out to oyster farms in the middle of the bay. Be guided by a local oyster farmer as you enjoy an up-close view of each step of the cultivation process, whilst also hearing first-hand stories of how the industry has recovered following the disaster of 2011. For lunch, freshly harvested oysters will be the star of a meal made from locally sourced seafood and ingredients at an oyster-shack run by a fishing family!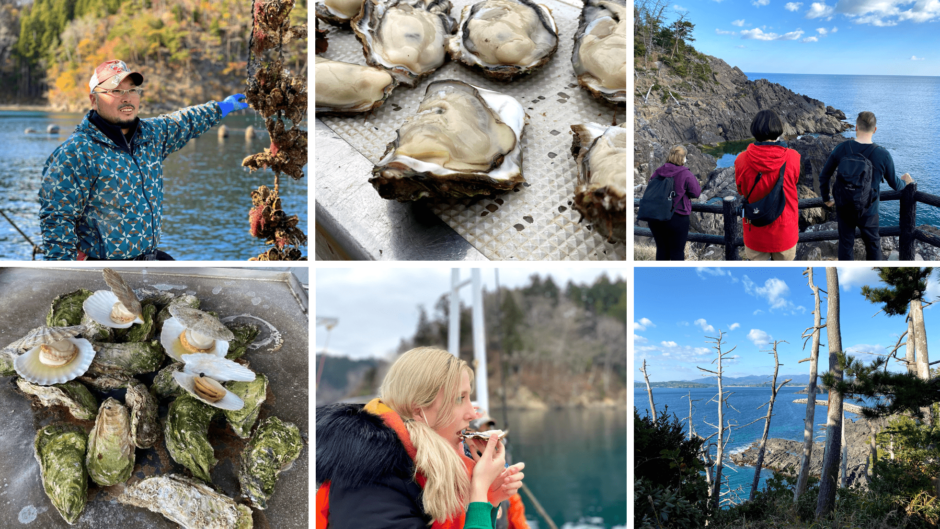 In the afternoon, walk along the Karakuwa Peninsula of the 'Michinoku Coastal Trail', a new 1000km walking route stretching along the Pacific coast of Tohoku, from Aomori in the north to Fukushima in the south. Take in stunning scenery of dramatic rock formations along the Sanriku coast and reflect on both the raw beauty and ferocity of nature.
After a day of reflection, share stories and memories of your journey over a delicious dinner around the 'Brewer's Table' in Kesennuma City. Joined by some of the local producers themselves, dine on local cuisine made with freshly caught seafood and expertly paired with local sake from 'Otokoyama Honten' Brewery.